It's the last day of December which marks the end of another year, and a whole year of Me & Mine family portraits. What better place to take December's photograph than in front of the Christmas tree?
I was lucky enough to get a remote shutter release for Christmas, and so we had to give it a try on Christmas day – Rosalie seemed to enjoy pressing the button, and it worked a charm for getting her to look at the camera.
On many occasions over the year I have left my monthly photos until the last minute, or have felt underwhelmed and uninspired at the thought of taking our family portraits, but looking back now over the year of photos, I am so pleased that I made the effort.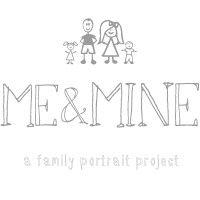 .